A link was wrong in the newsletter. The story about Hillary can be found HERE. We apologize for the inconvenience.
Fast Stock News has reported that President Trump's former wife Ivana Trump has died at the age of 73.
President Trump made the announcement.
According to reports, New York police responded to a call of a person in cardiac arrest in the Upper East side of Manhattan at 12:40 p.m on Thursday.
The reports show that Ivana died of natural causes.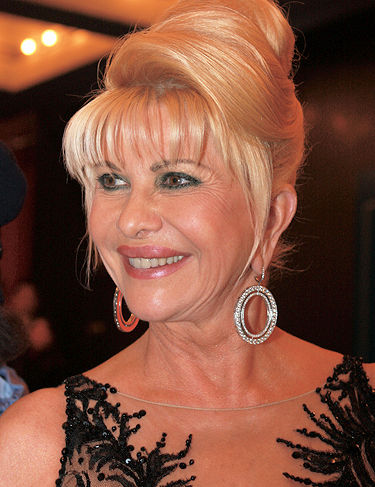 President Trump released a statement via Truth Social:
"I am very saddened to inform all of those that loved her, of which there are many, that Ivana Trump has passed away at her home in New York City. She was a wonderful, beautiful, and amazing woman, who led a great and inspirational life. Her pride and joy were her three children, Donald Jr., Ivanka, and Eric. She was so proud of them, as we were all so proud of her. Rest In Peace, Ivana!"
The Trump Family released the following statement:
"It is with deep sadness that we announce the passing of our beloved mother, Ivana Trump. Our mother was an incredible woman — a force in business, a world-class athlete, a radiant beauty, and caring mother and friend. Ivana Trump was a survivor. She fled from communism and embraced this country. She taught her children about grit and toughness, compassion and determination. She will be dearly missed by her mother, her three children and ten grandchildren."
Former President Donald Trump and Ivana married in 1977.
The couple divorced in 1990 which garnered a large amount of media attention. In fact, despite going through a strenuous divorce, Donald and Ivana teamed up to shoot a commercial for Pizza Hut which made light of the situation.
VIDEO:
They had three kids together, Donald Trump Jr., Ivanka Trump, and Eric Trump.
During Ivana's life, she was a very public person and appeared on a whole host of shows.
In 2006, she hosted Ivana Young Man, a reality series which aired on the Oxygen Network. The show helped wealthy, affluent middle-aged women find a younger partner.
She also appeared on the United Kingdom's version of Celebrity Big Brother in 2010.
Ivana was also quite the linguist. She was fluent in four languages: German, French, Czech, and Russian.
This is a developing story and will be updated as more information becomes available.